Viktória Bursics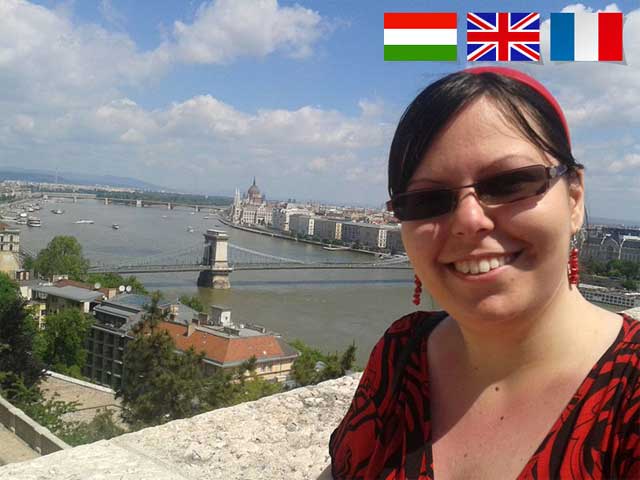 Are you looking for an English local private guide in Budapest? I can help you and provide you with advice on the best things to do in Budapest.
Tour guiding is my passion and chosen profession. I want to show you how we live our life in this great city.
I guide individuals, groups, make also bilingual or incentive walking tours with great experience and enthusiasm. I offer you the secrets of my wonderful city, Budapest. I'd like to show you the glorious past of which the magnificent buildings and scuares.
Bienvenue. Je suis une guide touristique locale et enthousiaste, je parle en francais et en anglais.
Je voudrais vous guider dans ce pays merveilleux. e voudrais vous aider a découvrir les plus belles sites de Budapest.En seulement quelques heures vous apprendrez tout ce que vous voulez sur la Hongrie, sur notre culture et sur notre facon de vivre. Je suis heureuse de vous raconter toutes les histoires et toutes les légendes cachées autour nos beaux bâtiments et monuments.
N'hésitez pas à me poser des questions, je suis sure que je peux vous aider a planifier votre séjour a Budapest.
Üdvözlöm! Viki vagyok, angolul és franciául beszélő idegenvezető. Ez egyben a munkám és a hobbim is. Imádom Budapestet. A főváros ismert és kevésbé ismert, gyönyörű és eldugott részeit szeretném bemutatni Önnek. Kedvenceim a vár, Halászbástya, Hősök tere, Vajdahunyad vára.
A városnézéseket az Ön igényei szerint alakítom annak érdekében, hogy néhány óra alatt bemutassam városost, a történelmet és a kultúránkat. Szeretném megmutatni, hogy mitől is olyan különleges ez a város. Nem mindennapi sétára invitálok helyieket és külföldieket egyaránt.
Email: bviki910502@gmail.com +36 70 774 2955