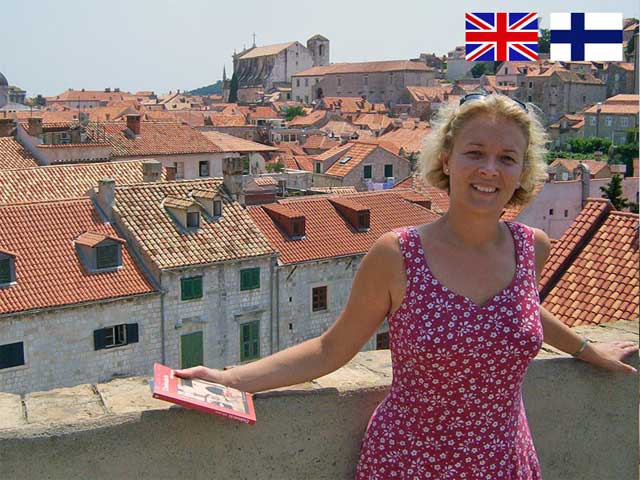 Greetings from Hungary!
Hello, I am Gabriella Reviczki, a licenced Hungarian tour guide with a University degree on Hungarian and Finnish language, literature and economics in hotel and tourism.
I have been working as a tour guide for more than 15 years in Finnish and English languages.
I have always been interested in travelling, countries, cultures, history, arts and gastronomy – so guiding has never been only my job but also my true passion.
During these years I've gotten experience in almost every region of Hungary. I've guided several different kinds of tours. Just to name a few, I have expertise in these luxuries; local vineyard tours, castle tours, spa packeages and plenty of interesting historic and educational excursions.
I don't work only as a guide, but also a tour leader in the neighburing countries of my homeland, Hungary. I have guided a lot of Finnish and English groups in Croatia, Montenegro, Slovenia and Serbia. During these trips I work as a translator of different languages to my excursion groups.
My aim is to please and give the best possible excursions to either groups or idividuals !
Do not hesitate to be in touch!
Sincerely,
Gabriella

Tervehdys Unkarista!
Olen Gabriella Reviczki, unkarilainen suomea puhuva virallinen matkaopas.
Opiskelin Debrecenin yliopistossa unkaria, suomen kieltä ja -kirjallisuutta, sekä Budapestin matkailukorkeakoulussa ekonomiksi matkailun ja hotellin alalla.
Olen toiminut oppaana yli 15 vuotta suomen ja englannin kielellä. Olen aina ollut kiinnostunut matkustamisesta, maista, historiasta, taiteesta ja kulttuurista – näin ollen opastyö ei koskaan ole tuntunut minulle työltä vaan pikemminkin harrastukselta.
Vuosien aikana olen saanut paljon opaskokemusta ympäri kotimaatani Unkaria – olen opastanut mm. linnankierroksia, viini-, kulttuurimatkoja, kylpylälomia ja paljon retkiä Budapestin ympäristössä.
Olen toiminut myös matkanjohtajana monille suomalaisille ryhmille Unkarin naapurimaissa, esimerkiksi Kroatiassa, Sloveniassa, Montenegrossa ja Serbiassa. Ulkomaan matkoilla olen tulkannut paikallisoppaiden tarinoita niin suomesta englanniksi kuin myös englannista suomeksi.
Toivottavasti voin auttaa myös sinua kokemaan uusia elämyksiä lomallasi – Tervetuloa matkalle mukaan!
Ystävällisin terveisin,
Gabriella
Ota rohkeasti yhteyttä!