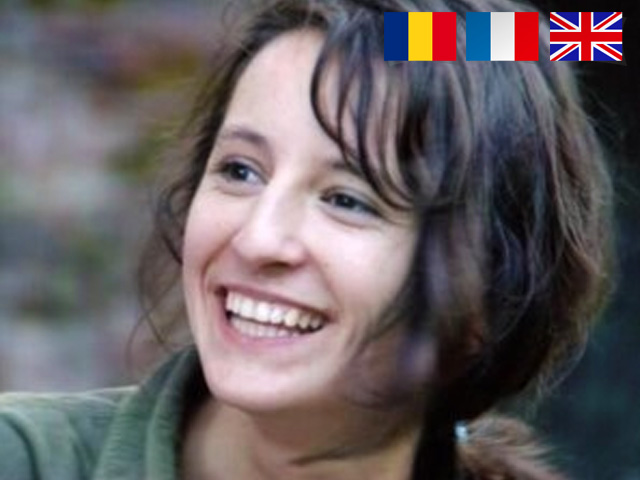 (Phone / WhatsApp / Viber)

Orădeancă de origine, locuiesc şi lucrez de mai mult de 4 ani în capitala Ungariei, oraş de care m-am îndragostit la prima vedere.
Pasionată de cultura franceză şi de cea evreiască, doresc să transmit comorile găsite de-a lungul anilor, dar şi dragostea mea pentru poporul cărţii. Si cum majoritatea oraşelor mari ale Europei, deţin câte un cartier evreiesc (Budapesta nefacând exceptie), vă invit să descoperim împreună clădirile locuite, străzile umblate, şi ideile lăsate de către cei care ne-au fost vecini de secole, dar despre care cunoaştem foarte puţin.
Tururile pietonale sunt disponibile momentan doar în week-end: Sâmbăta şi Duminica
• Budapesta evreiască, plimbare de cartier: 1,5-2h max
• Budapesta pas cu pas (tur general): aprox. 3h
• Tururi personalizate la cerere

Roumaine d'origine, passionnée par la culture française et juive, je vous propose de (re) découvrir les trésors que cette ville ne cesse de dévoiler. Laissez-moi vous guider a travers une Budapest jusqu'alors inexplorée.
Les visites guidées auront lieu le samedi et le dimanche uniquement. Pour toutes questions/demandes, n'hésitez pas à me contacter via mail, facebook ou par téléphone.
1. Budapest quartier juif, le VIIe arrondissement : durée de la visite : 1,5- 2h max.
Le VIIe arrondissement reste mon district préféré de Budapest.
2. Budapest pas à pas / en détail / (tour général de la ville): durée de la visite : env. 3h
Les incontournables
3. Visites personnalisées, sur demande

Originally from Romania, I have been living and working for more than 4 years in the Hungarian capital, a city I fell in love with at first glance.
Passionate about French and Jewish culture, I'd like to convey the treasures found over the years, but also my love for the people of the book.
I kindly invite you to discover together the stories behind the Király, Dob or Kazinczy streets buildings, and why not get acquainted with those behind the success of this neighborhood: the 7th district of Budapest.
Walking tours are currently available only on weekends: Saturdays and Sundays
1. Jewish Budapest, city walk: 1,5-2h max
2. Budapest step by step (general tour): approx. 3h
3. Personalized tours upon request