Ildikó Balogh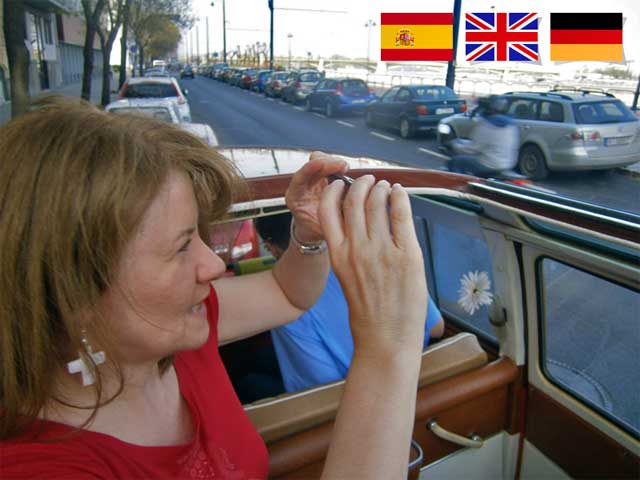 Hola, soy Ildikó (Hilda), guía licenciada residente en Budapest.
Hi, I am Ildikó, a licensed guide living in Budapest.
Hello, ich bin Ildikó, eine staatlich geprüfte Reiseleiterin aus Budapest.
Son inexplotables las posibilidades que ofrece Budapest para pasar su tiempo libre. Aparte de los tours clásicos de visita existen tours temáticos, y atracciones, como baños termales, cafés elegantes del cambio del siglo, el barrio judío, lugares culinarios, museos, bares ruina, actividades y mucho más. Cada día hay una variedad de programas culturales para disfrutar. Para los que disponen de un poco más de tiempo y les gusta el vino, recomiendo hacer una visita a bodegas para degustar vinos. Las experiencias de los pasajeros son fantásticas. No tengo vehículo propio. Utilizar los medios de transporte públicos es una opción: bus, tranvía, subterráneo, barco, etc., y caminando o también se puede alquilar un vehículo. Por favor infórmenme sobre su pasatiempo favorito, o una ocupación especial, tema que sea de su interés, para tomarlo en cuenta al hacer los planes.
Budapest offers a range of exciting possibilities to spend your precious leisure time. Besides the classic tours of sightseeing, there are different themed tours, and other attractions as thermal baths, turn of the last century cafés, the Jewish quarter, culinary delights, museums, ruin pubs, activities and much more. There is a wide variety of different style cultural programs to enjoy every day. For wine lovers with more time to spend I suggest to take a winery tour to taste wines in the cellars. I can report about fantastic experiences of guests. I do not have a car. Visits can be done using public transport, as bus, metro, etc. and walking, but it is also possible to rent a car. Please, let me know your special interest or favourite free time occupation, if any, so that I could consider it by planning the tour.
Budapest bietet unendliche Möglichkeiten um Ihre werte Freizeit vernünftig zu verbringen. Ausser der klassischen Stadtbesichtigung können Sie aus verschiedenen thematischen Programmen wählen, weiterhin eine Reihe von Anziehungskräfte wie Thermalbäder, elegante Kaffeehäuser der Jahrhundertwende, das Judenbezirk, kulinarische Verköstigungen, Museen, aktiver Zeitvertreib, und noch viel mehr. Abwechslungsreiche kulturelle Programme verschiedener Art erwarten Sie jeden Tag. Diejenige die über ein bisschen mehr Freizet verfügen und den Wein lieben, können eine Weinreise nehmen, um den Wein im Keller zu verkosten. Ich kann über fantastische Erlebnisse der Gäste berichten. Ich habe keine Transportmittel. Die Stadt kann man zu Fuss und mit öffentlichen Verkehrsmittel kennenlernen, aber es ist auch möglich einen Wagen zu mieten. Hätten Sie ein Hobby oder einen speziellen Interessenkreis, so bitte lassen Sie es mir wissen, damit ich es bei der Planung berücksichtige.